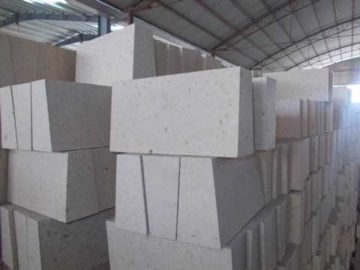 High Alumina Bricks Applications
High Alumina Bricks are mainly applied in building:
Blast Furnace
Hot Air Stove
Roof Of Electric Stove
Reverberatory Furnace
The lining of Rotary Kiln
Also, high alumina bricks are widely used as
Checker brick in Siemens-Martin Regenerative Open-Hearth Furnace
Plug or nozzle brick for gating system
High Alumina Bricks Classifications
Since the major component of high alumina brick is aluminium oxide (Al2O3), the classification of alumina bricks is based on the content of aluminum oxide. Usually 48%, 55%, 60%, 65%, 73%, 75% alumina bricks are used more than other categories.
Bricks with higher content of aluminum oxide could be categorized in corundum bricks series (see article: what are corundum bricks). Bricks with lower content than 55% of alumina oxide are usually called fire clay bricks (see article: Why Are High Alumina Bricks Better Than Fire Clay).
High alumina bricks are divided into:
Normal High Alumina Bricks
High RUL Alumina Brick
Low Creep Alumina Bricks
Phosphate Bonded Alumina Bricks
Micro Expansion Alumina Bricks
Composition and Application For Normal High Alumina Bricks
The mineral composition of normal high alumina bricks includes corundum, glass phase and mullite. Normal high alumina bricks has stronger refractoriness than fire clay bricks. It is a widely applied material used in all kinds of hot stoves and kilns. Compared with fire clay brick it has longer service life.
Composition and Application for High RUL Alumina Bricks
Compared to normal high alumina bricks, high RUL alumina bricks add different composition to substrate and bonder. Its refractoriness under load could be 50-70℃ higher than normal high alumina bricks.
Composition and Application for Low Creep Alumina Bricks
The stroma of this kind of brick is mainly of corundum, so it has an excellent performance under high temperature. Basically low creep alumina bricks are used in hot stove, blast furnace and other high temperature furnaces and kilns
Composition and Application for Phosphate Bonded Alumina Bricks
Phosphate bonded high alumina bricks are made from superfine or first class bauxite, phosphate solution or aluminum phosphate solution as bonders. It is made under 400-600℃ as a chemical bonded refractory brick. This kind of product has a better anti-stripping quality. Phosphate bricks are applied in cement rotary kiln, roof of electric furnace, etc.
Composition and Application for Micro Expansion Alumina Bricks.
The aggregate of this brick is high alumina bauxite. Since there is a micro-expansion needed in using, it is vital to make part of its mineral composition turn into mullite. Micro expansion high alumina bricks are used as steel ladle linings.