Corundum brick is a kind of aluminum silicate refractory products with corundum to be main crystal phase. Corundum bricks have excellent high temperature mechanical behavior which also can stand corrosion and abrasion. The brick, contains more than 90% Al2O3, has the compressive strength (under normal temperature) up to 340MPa. Its refractoriness under load can reach more than 1700℃.
Corundum bricks are widely applied in extremely high temperature environment, such as pyrolyzer or reformer in petrochemical industry and chemical fertilizer industry, or all kinds of high temperature furnace lining and kiln furniture in metallurgical industry.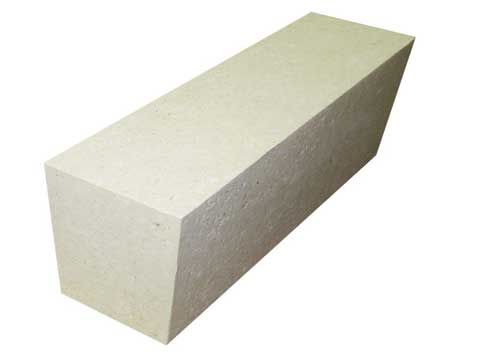 Rongsheng refractory produces all kinds of quality refractory products. The corundum bricks we produce have a high bulk density, fine compressive strength and can serve under high temperature above 1790℃.
Application of Corundum Bricks
Blast Furnace And Hot Air Stove For Blast Furnace
Refining Furnace for Steelmaking Furnace
Sliding Water Heater
Glass Melting Furnace
Petrochemical Industrial Furnace.
High-Temperature Tunnel Kiln
Down-Draft Kiln
Application Cases and Tips: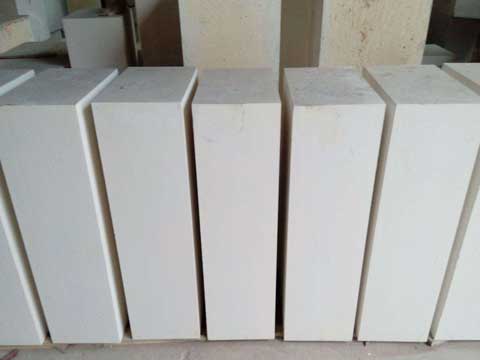 Employ corundum porous plug in furnace refining, such as VAD / VOD furnace, can help resist continuously blowing argon for 60 ~ 90min, bear 1700 ~ 1800 ℃ molten steel. And the service life is 1 to 4 times, the average corrosion rate is between 8~13mm per time.
Corundum bricks on secondary reformer(for petrochemical industry) can work for years under 1700℃ high temperature environment with a strongly reducing atmosphere.
Use corundum block on out-feed channel of High temperature glass kiln pool can prolong its working life.
Al2O3>95% corundum brick could be used for lining or combustion chamber lining of shuttle kiln
Composition & Property of Corundum Bricks
Corundum is main crystal phase of Corundum brick, which contains more than 90 Al2O3. The brick has a stable chemical property, which can bear acidic and alkali slag, molten metal and glass. The product can also stand acid and alkaline gas erosion, and will not be affected by H2, CO and other reducing gases.
It has a good bulk density but its thermal shock capacity is comparatively lower.
The main raw material of pure corundum brick is fused white corundum sand. The corundum bricks we produce are made from: pure fused white corundum, synthetic mullite and chromium oxide.
                                Items
Index
High Purity
Corundum Brick
Sintered Corundum Brick
Electro-Melting Corundum Brick
Fused Cast Corundum Brick
Al2O3 (%)≥
99
 98.5
98
93
SiO2 (%)≤
0.3
0.5
0.5
2.5
Fe2O3 (%)≤
0.2
0.5
0.7
0.5
RO (%)≤
0.3
0.2
0.6
4
Bulk Density (%)≥
3
2.95
2.95
3.54
Refractoriness
1790
1790
1790
1790
RUL℃(0.2Mpa)≥
1700
1700
1700
1650
Linear Change On Reheating(%)1600*3h
0.2
0.5
0.2
0.3
Compressive Strength (Mpa)
75.0
≥80
≥60
200
Thermal Stability(times)1100℃ Water Cooler
6
10
10
10
Classification Of Corundum Bricks
Corundum bricks can be classified based on manufacturing method:
Sintered corundum brick
Electro-melting corundum brick
Fused cast corundum brick
Corundum Bricks Manufacturing Process
Fused cast corundum brick: firstly Mix the industrial alumina and a small amount of soda ash with quartz powder, then melt the raw material in an electric arc furnace. Next, through molding, annealing finally machining the material into the desired shape and size.
Electro-melting corundum brick: Smash electro-corundum and mix it with a little clay and binder. Then mold it into form by brick machine. The density of the brick is between 2.75~2.85 g/m3. Lastly, after drying, heat it up to 1700~1800℃ and finish the procedure.
Corundum Bricks Manufacturer
Zhengzhou Rongsheng kiln refractory material Co., Ltd produces quality corundum bricks with a low price, if you are looking for specialized corundum bricks manufacturers, Rongsheng refractory is a good choice! Please leave your phone number, and we will contact you within 12 hours!