Fused cast mullite brick (also called fusion-cast mullite brick or Electric cast mullite brick) is a fused cast refractory material. RS Fused Cast Mullite Brick Manufacturer and Supplier, can provide you the best quality fire bricks.
Fused cast mullite brick is a subacid refractory brick, the main composition is alumina, which is about 65% ~ 75%. Usually the brick is applied in glass furnace. It has excellent high temperature performance, good abrasion-resistant ability, low coefficient of thermal expansion, and a better thermal shock resistant. Rongsheng kiln refractory company, with ten years' experience in manufacturing refractory materials, provides quality fused cast mullite brick.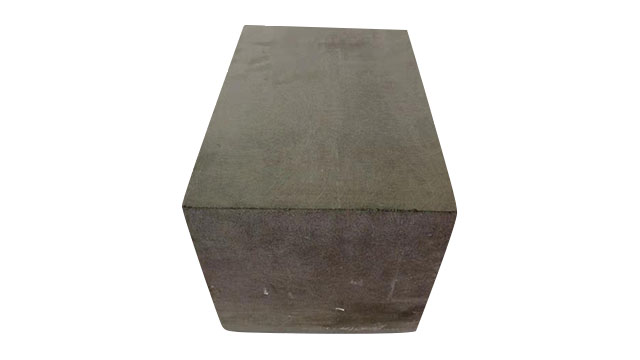 Property of Fused Cast Mullite Brick
Mullite brick belong to fused cast refractory bricks. Fused cast mullite bricks are manufactured and shaped after the batches being melted. There are usually two kinds of method to melt batches, one is by electro fusion and the other is through thermite process. Electro-fusion is the prevailing method of producing fused cast refractory materials.
Fused cast mullite brick is comparatively a denser refractory brick. The refractoriness of this brick is about 1730~1800℃,and its load softening start at about 1730~1800℃ (refractory under load). The brick has a good high temperature performance and abrasion-resistant ability, it also has a low coefficient of thermal expansion, thermal conductivity, and a relatively better thermal shock resistant compared to other bricks.
The brick is made from high alumina bauxite, industrial alumina oxide and refractory fire clay. The manufacturing process including melting, casting and cooling.
Compared with burned refractory products, the fused casted products have these better properties: denser, lower porosity, higher mechanical strength (several times than burned bricks), better thermal stability, better thermal conductivity, and better resistance of slag.
Composition of Fused Cast Mullite Brick
The mineral composition of the fused cast mullite brick is mainly mullite (60% ~ 70%), which is acid. So the fused cast mullite tends to be a kind of subacid refractory brick. The main chemical composition of this brick is alumina oxide, which takes 65%~75%, and Silicon dioxide takes about 25%, other oxides takes 5%~8%. 
Applications of Fused Cast Mullite Brick
Mullite bricks, like other Aluminum, silicon or zirconium casting products, are mainly used in molten glass furnaces, especially in the parts that are eroded seriously, like the charging hole. Use mullite bricks for kiln linings can promote kiln's service life, and increase the melting temperature inside the kiln, which accordingly, advance glass output. 
Manufacturer of Fused Cast Mullite Brick
Rongsheng kiln refractory company offers high alumina brick, fireclay brick, light weight insulating brick, refractory castables and various kinds of refractory cement, etc. for different industries, we provide: Spalling resistant high alumina brick (anti-stripping high alumina brick), phosphate bonded alumina brick, alkali-resistant brick, and all kinds of mullite brick, corundum brick, abrasion-resistant brick, etc.
In the fierce market competition, our company has won the trust and praise from many customers. RS Fused Cast Mullite Brick Manufacturer and Supplier products have been sold to Vietnam, India, Korea, Pakistan, Iran and other southeastern countries. If yo have any needs of Fused Cast Mullite Brick, Please contact us.