Mullite Bricks, as a kind of high temperature mullite refractory materials for sale cheap from Rongsheng Factory, have many excellent properties and can be used for the hot surface lining and backing lining of various industrial furnaces. Want to learn more information? Welcome to contact us through email now.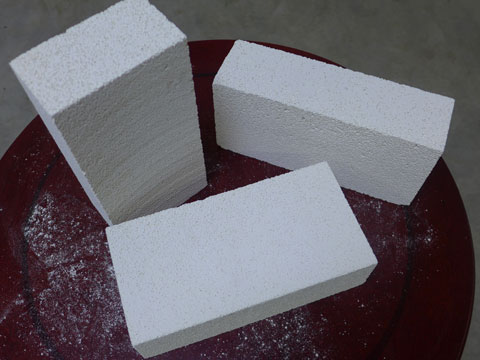 Mullite Bricks Introduction
Mullite bricks mean those high alumina refractory materials made of mullite as the main crystal phase. And generally the alumina content for mullite brick is during 65%~75%. The mineral composition of mullite refractory bricks contain mullite, glass phase, cristobalite or corundum according to the alumina content.
Mullite brick has high refractoriness that can reach over 1790℃. Its initial temperature of softening under load is during 1600~1700℃. Its cold crushing strength is during 70~260MPa.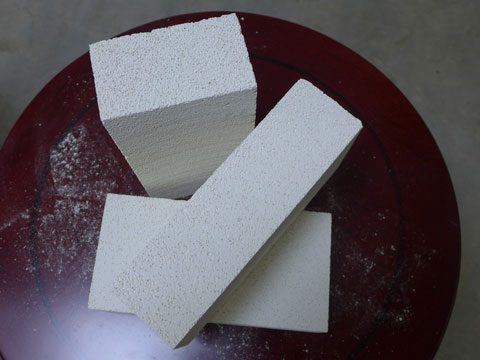 Mullite Bricks Specification
Items
MU 60
MU 65
MU 70
MU 75
Chemical Composition
Al2O3 %
≥60
≥65
≥70
≥75
SiO2 %
≤35
≤33
≤26
≤24
Fe2O3 %
≤1.0
≤1.0
≤0.6
≤0.4
Thermal Conductivity W/(m·K)  1000℃
1.74
1.84
1.95
1.95
Cold Crushing Strength  MPa
≥60
≥60
≥80
≥80
Thermal Expansion Coefficient (×10-6℃-1)
0.6
0.6
0.6
0.55
0.2Mpa Refractoriness Under Load  T0.6 ℃
≥1580
≥1600
≥1600
≥1650
Thermal Shock Resistance 1000℃ water cycles
≥18
≥18
≥18
≥18
Bulk Density g/cm3
≥2.55
≥2.55
≥2.55
≥2.55
Reheating Linear Change (%)   1500℃×2h
0~+0.4
0~+0.4
0~+0.4
0~+0.4
Apparent Porosity   %
≤17
≤17
≤17
≤18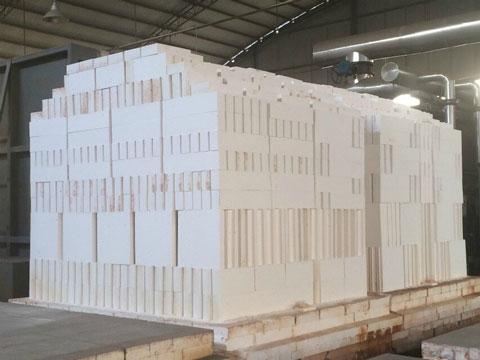 Mullite Bricks Type
Mullite refractory bricks can be classified into sintered mullite brick and fused mullite brick.
Sintered mullite brick is manufactured with bauxite clinker as the main raw material and added a little of clay or raw bauxite as the binding agent through molding and firing.
Fused mullite brick is manufacture with bauxite clinker, industrial alumina and refractory clay as the raw materials and added charcoal or coke fine particle as the reducing agent through electric smelting method after molding.
The crystal for fused mullite is bigger than the one for sintered mullite. The thermal shock resistance of fused mullite brick is better than the one of sintered mullite brick. The high temperature property of fused mullite brick and sintered mullite brick depend on the alumina content and the uniformity of distribution between mullite phase and glass.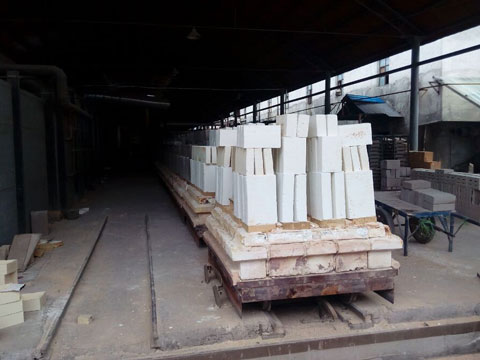 Mullite Bricks Properties
Low thermal conductivity and low thermal capacity.
High purity and low impurity content.
High temperature resistance and can contact fire directly.
High strength and have good thermal shock resistance.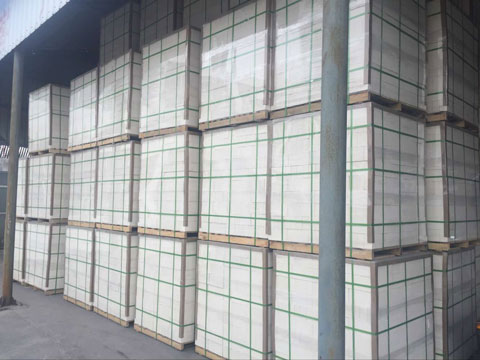 Mullite Bricks Application
Mullite bricks can be widely used for the hot surface lining and backing lining of various industrial furnaces in metallurgy, petrochemical, building materials, ceramics, machinery and other industries. Such as cracking furnace, reforming furnace, heating device, refining device, regeneration device, hot blast furnace, heating furnace, soaking furnace, heat treatment furnace, resistance furnace, tunnel kiln, roller kiln, shuttle kiln, bell kiln, glass pool kiln and etc.
Lightweight Mullite Brick
Lightweight Mullite Brick is a kind of ideal mullite insulation bricks, which has features of good chemical stability, high temperature resistance, high dimensional accuracy, uniform structure, low thermal conductivity and can be widely used in hot blast stove, glass crucible, metal smelting furnace, ceramic tunnel kiln, roller kiln, electric porcelain shuttle kiln and etc.
Lightweight mullite brick is manufactured through complex addictive burning method. It has low cost of production and simple production process and can used in high temperature conditions.
Mullite Bricks Manufacturing Process
Mullite bricks are made of sawdust, foamed polystyrene particles and their mixtures as additives for burning, and is formed by high-frequency vibration pressure. Its size is 230 x 114 x 65mm.
The key to molding is to adjust the pressure and time, and the semi-finished products after molding are transported to the drying room for baking at 40℃ for 24 hours and baking at 60℃ for 24 hours.
After the bricks are dried, they are fired in a heavy oil tunnel kiln, the temperature is controlled at 1400±10℃, the firing cycle is 24 hours, the heat preservation is 4 hours, and the cart speed is 60 minutes/car.
Mullite Brick Suppliers
Do you want to buy China mullite brick or are you looking for mullite brick suppliers or manufacturers? Here Rongsheng Refractory Company can help you. Rongsheng is a professional refractory materials manufacturer and supplier in China. We have rich experience and ability to produce and supply high quality mullite bricks for sale to our customers around the world. If you have any questions or requirements on the mullite bricks or other refractory materials, you can contact us through email. Welcome to find Rongsheng mullite brick supplier in China.