Alumina ceramic ball, is a kind of material with high hardness, high temperature performance, and corrosion resistance. It is also known as ceramic ball, grinding ball, tabular ball, high alumina ball, etc. Alumina ceramic balls are applied in industries like ceramics, cement, chemicals, fertilizers, petrochemicals, paints, enamels, mines, metallurgy, coatings, refractories, inorganic minerals, powders, etc. The product appears to be white ball, diameter ranging from 0.5mm to 120mm. Rongsheng Kiln Refractory Co., Ltd. provides high quality alumina ceramic ball at low price. Click the red button below, leave your message, and get the lowest price! Here are the details of the product: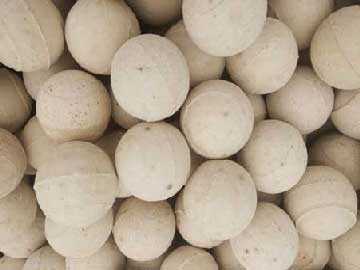 Alumina Ceramic Ball Properties
With High Mechanical Strength
High Hardness
Excellent Wear Resistance
High Density
Small Volume
High Temperature Resistance
Corrosion Resistance
Acid and Alkaline Resistance
No Pollution
Alumina ceramic ball has excellent properties such as high strength, high hardness, wear resistance, high density, high temperature resistance, acid and alkali resistance, corrosion resistance, and produce little pollution. The ball is applied to produce different types of ceramic, glass, and chemical raw materials. The grinding efficiency and wear resistance ability of the ball is far better than ordinary stone ball and cobblestones. So alumina ceramic ball are excellent grinding medium for grinding equipment, such as ball mill, tank mill and vibrating mill.
| | |
| --- | --- |
|                          Item | Value |
| Water Absorption (%) | <0.5 |
| Bulk Density (g/cm3) | 1.35-1.4 |
| Specific Gravity (g/cm3) | 2.3-2.4 |
| Free Volume (%) | 40 |
| Operation Temp.(Max) (°C) | 1100 |
| Moh's Hardness (Scale) | >6.5 |
| Acid Resistance (%) | >99.6 |
| Alkali Resistance (%) | >85 |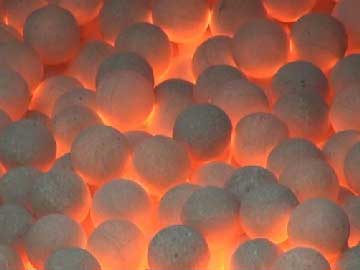 The main chemical composition of alumina ceramic ball is aluminate oxide. It can stand high temperature and high pressure, has low absorption of water and a stable chemical property. It can bear the erosion from acidic or alkaline materials with almost no losses. It is an excellent material to resist sudden temperature change and have no change in its physical structure.
Technical parameters:
| | | | | |
| --- | --- | --- | --- | --- |
| Al2O3% | ≥90 | ≥92 | ≥95 | ≥99 |
| Fe2O3% | ≤0.28 | ≤0.25 | ≤0.15 | ≤0.10 |
| SiO2% | ≤6 | ≤4 | ≤2 | ≤0.3 |
| Refractoriness% | ≥1750 | ≥1780 | ≥7800 | ≥1850 |
| Compressive Strength, MPa | ≥90 | ≥120 | ≥150 | ≥180 |
| Waterabsorption,% | ≤5 | ≤5 | ≤5 | ≤5 |
| Acid resistance% | ≥98.5 | ≥98.5 | ≥98.6 | ≥98.8 |
| Alkali resistance% | ≥90 | ≥92 | ≥93 | ≥95.5 |
| Thermal Shock Resistance, ℃ | 800 | 820 | 850 | 900 |
| Bulk Density, g/cm3 | ≥2.8 | ≥3.0 | ≥3.1 | ≥3.2 |
The product is very clean, so it has little bad effect on the quality of the material being grinded. By rolling and isostatic pressing, the ball can increase grinding efficiency by leaps and bounds. Due to it high hardness, the product remain in ultra-loss though long-time abrasion. This property can prolong the service live of the ball greatly, and cut down your cost.
Alumina Ceramic Ball Manufacture Technique
Rongsheng choses selected alumina oxide as raw material. The material is of high purity and stable chemical and physical form. The whole processing procedure can be controlled and tracked. The raw materials and manufacturing procedure of every product is under strict inspection to ensure its quality.
Alumina ceramic balls are white aluminate oxide spheres. The diameter of the spheres ranges from 0.5mm to 20mm. and alumina ceramic balls manufactured by isostatic pressing ranges from 25mm-90mm.
Alumina ceramic ball applications
The usage of alumina ceramic balls can be simply divided into three kinds: one is for grinding, one is for heat preserving, and aother is for stuffing.
Alumina ceramic ball is an excellent tool to speed up grinding, to serve as stuffing materials for heat preserving or for covering and supporting catalyst. The product is popular in various industries including ceramics, enamel, glass, and chemical industry for fine machining or further processing.
When it is used as grinding tool, it is usually put into ball mill, tank mill or vibration mill. As the balls are dense, with low porosity, it can hardly be broken and leave debris in the products you are producing. It is a clean tool which will not leave unwanted color on the products you produce.
When the product is used for stuffing, it has two kinds of functions, one is to cover and the other is to support catalyst in a reactor of environmental protection industry. Its main function is to increase the distribution area of gas or liquid, to support and protect the active catalyst without enough strength. Because the material has a high melting point (aluminate oxide, which is the main chemical composition of alumina ceramic ball, starts to melt at 2054℃, and high alumina products, with a little impurities, can serve under the temperature of 1770℃ ) it can work under extremely high temperature environment such as rotary kilns, etc.
As for heat preserving, and since aluminate oxide have a low thermal conductivity, the material can stop heat loses in a furnace to save resources.
Advantages of Alumina Ceramic Balls
The main composition of alumina ceramic ball is aluminate oxide, which is an excellent refractory material, and has little negative effect on the product being grinded.
The balls are manufactured by rolling or isostatic, so it has a high density. And due to the high density, the product can largely promote efficiency of grinding and cut down grinding time. It is a good material to help you save energy and reduce cost. Moreover, the product can increase the valid volume of ball mill and thereby increase the amount of grinding material.
The product has ultra-low losses in bulk size under abrasion, and has a long service life.
The product is very clean, and will not affect the property of the grinded products.
The product can serve under temperature of more than 1000℃.
The product can resist corrosion from acid and alkaline, so it can work well in acidic or alkaline environment.
Alumina Ceramic Ball Manufacturer and Supplier
As a professional manufacturer and supplier of refractory materials, Rongsheng has been in this field of producing alumina ceramic ball for over 20 years. We have four factories with a strong sell and after-sell service company. Our aim is to provide high quality product, serve and provide guidance to our guests.
Leave your message below and get a price!