Sillimanite bricks for glass kilns are refractory bricks made of sillimanite minerals. Sillimanite is converted into mullite and free silica after high-temperature calcination. Generally, it is produced by the high-temperature firing method and mud casting method. Its physical and chemical properties are better than high alumina bricks, with a refractoriness of 1770~1830℃ and a softening starting point under load of 1500~1650℃. Mainly used for soaking furnaces, heating furnaces, glass tank kiln flow hole molding, blast furnace linings, furnace throats, and ceramic industrial kiln furniture.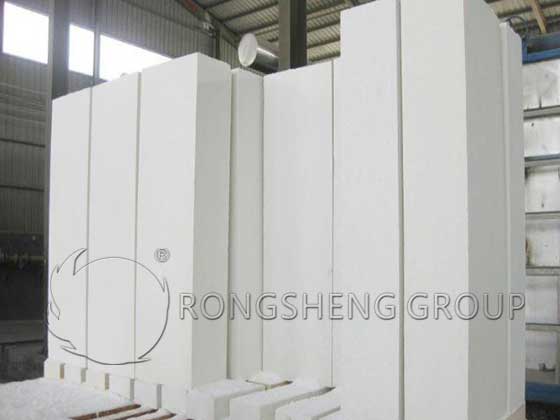 Sillimanite is a high-quality refractory raw material. It is used to produce low creep, high load soft, high thermal shock bricks, micro-expansion high alumina bricks, and phosphate-bonded high alumina bricks for electric furnace roofs and cement rotary kilns. Also used in glass, ceramics, technical ceramics, special coatings, and other industries. At present, sillimanite bricks are mainly used in key parts of kilns such as glass kilns, alkali-free fiber kilns, blast furnaces, and refractory tunnel kilns. Andalusite is used in blast furnace cooling stave, ceramics, chemical, and other industries.
High-quality sillimanite bricks for glass kilns
High-quality sillimanite bricks and sillimanite brick refractory brick products for glass kilns. Rongsheng High Alumina refractory brick manufacturer supplies glass kilns of 50 sillimanite large bricks, corrosion-resistant 60 sillimanite bricks, 65 sillimanite bricks, sillimanite large bricks, and special-shaped bricks. Choose a strong sillimanite brick manufacturer, the product quality is reliable, special-shaped bricks can be customized, and the delivery time is guaranteed. Rongsheng refractory brick manufacturer specializes in the production of sillimanite, corundum, and mullite products for glass kilns, steel plants, and aluminum plants.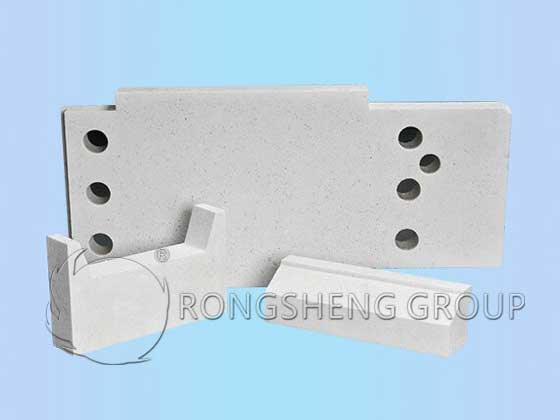 Sillimanite products have good high-temperature thermal stability, are resistant to glass erosion and erosion at night, and have little pollution to the glass liquid. It is the most commonly used refractory material for feeders, tube drawing machines, and other equipment in the glass industry at home and abroad. Can significantly improve productivity. Sillimanite refractory brick products include forehearth bricks, flow troughs, rotating tubes, material basins, material bowls, mixing slurries, punches, and barrels. Fire-stopping and slag-blocking rotors, gate bricks, front arch bricks, rear arch rotors, material basin cover, through-hole rotors, burner nozzle rotors, beams, and cover bricks. There are hundreds of products, including muffle furnaces, with hundreds of specifications. Synthetic mullite products have better physical and chemical properties.
Glass kiln 65 sillimanite lip brick, corrosion-resistant sillimanite large brick, high-temperature resistant sillimanite brick. Standard brick specifications, 230*114* 65mm. Rongsheng sillimanite bricks have good high-temperature thermal stability, resist erosion and erosion of glass liquid, and have little pollution to glass liquid. Supporting masonry mortar is also provided.
Refractory bricks for glass kilns: sillimanite bricks and andalusite bricks
The so-called sillimanite products are made by adding a certain proportion of sillimanite, andalusite or kyanite, and other trace elements to the ingredients of high-alumina bricks. As a result, the thermal shock resistance of the product is improved, especially when the high-temperature creep rate of the product is reduced. Some people also call this kind of brick low creep high alumina brick.
Sillimanite, andalusite, and kyanite behave the same on heating. They all decompose to form mullite and SiO2 phases. The latter can form either cristobalite or a glassy phase. The difference is that the volume expansion of sillimanite and andalusite into mullite is smaller. And kyanite is big.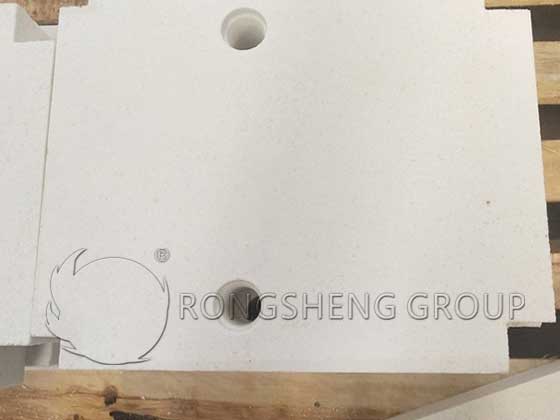 Since sillimanite and andalusite have only a small volume effect during the thermal mulliteization process, they can be directly used to make bricks. It can be burned or not burned. The Al2O3 content of sillimanite bricks is generally 50% to 60%. Its notable points are that its high-temperature volume stability, load softening point, and thermal shock resistance are better than those of high alumina bricks. In modern large-scale furnaces, sillimanite bricks must be used to ensure the structural stability of the furnace.
Sillimanite bricks are generally fired below the temperature at which sillimanite decomposes. During use, if the use temperature is slightly lower than the decomposition temperature of sillimanite, the volume stability of the brick is very good and there is no obvious volume effect. If it is higher than the decomposition temperature, sillimanite decomposes into mullite and liquid phases and expands slightly in volume. It can also offset the shrinkage caused by the generation of the liquid phase and maintain a relatively stable volume.
Mullite chemical products can be obtained by high-temperature firing, that is, firing at a temperature higher than the decomposition temperature of sillimanite and andalusite. By controlling the volume expansion of bricks during firing, products with better performance can be obtained. Research results show that the microstructure of bricks produced by sillimanite and andalusite without pre-burning clinker is better. This can be explained by the fact that the mullite crystal network formed by the pre-burned clinker will be destroyed when crushed. During further firing, it is impossible to form a mullite bonding network, which will reduce the density and high-temperature performance of the product.
Compared with the world's advanced countries, the development and application of sillimanite in China started late. In the 1960s, Putian, Fujian Province directly cut and processed the abundant muscovite sillimanite schist into refractory materials of various shapes and sizes for sale inside and outside the province. In the late 1970s, due to the construction of a certain steel plant, foreign parties requested the use of sillimanite, including sillimanite, which promoted the development and application of sillimanite minerals in China. At that time, sillimanite was mainly used in high alumina bricks in key parts of soaking furnaces and heating furnaces, and in the corundum upper and lower slides of the 300-ton ladle.
Buy high-quality al-si refractory bricks for glass kilns, AZS bricks, sillimanite bricks, corundum bricks, corundum mullite bricks, etc. Please contact us. We can provide high-quality refractory products and perfect customer service.