High Alumina Insulating Refractory Brick mainly refers to refractory products with an alumina content of more than 48%. Because of its advantages such as low volume density, lightweight, and good heat insulation effect, it is also called lightweight high alumina brick or heat insulation high alumina brick. It is a kind of insulating refractory brick commonly used in high-temperature industrial kilns and thermal equipment.
Due to different parts of use, the use temperature of the High Alumina Insulating Refractory Brick is different from that of heavy high-alumina refractory bricks. Heavy refractory bricks can directly contact solution or molten slag, with low porosity and strong resistance to penetration. Lightweight high-alumina refractory bricks cannot touch the slag, and the porosity is high (66%-73%). The slag penetrates into the brick body through the pores and causes damage.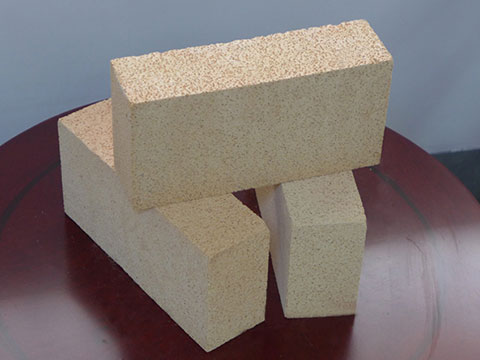 What is the Service Temperature of High Alumina Insulating Refractory Brick?
According to the characteristics of the production industry, different materials are used and the use temperature is different. Such as the use of lightweight high-alumina bauxite clinker as the main material is called ordinary lightweight high-alumina bricks. Lightweight corundum bricks are made of fused or sintered alumina as the main material. The different service temperatures and characteristics of the two refractory bricks are as follows.
Ordinary lightweight high-alumina bricks are produced by the foam method. High-alumina clinker and gangue clay are used as raw materials, Fraxinus mandshurica clay is used as a sintering aid, 3% to 5% sawdust is added as a drying aid, and rosin soap is used as a foaming agent. Prepare foam slurry with a density greater than 1.05g/cm3, pour it into a metal mold, and then dry it together with the mold. Then it is fired in an inverted flame kiln at 1300~1350℃ and kept for 4~6h. After exiting the kiln, it can only be used after being processed with a grinding wheel for smoothing and shaping. The bulk density is 0.4-1.35g/cm3, the porosity is 66%-73%, the compressive strength is 1.3-8.1MPa, and the thermal conductivity is 0.291~-0.582W/(m·K). High Alumina Insulating Refractory Brick has high refractoriness and good thermal shock resistance and is often used as high-temperature insulation in kilns. Because lightweight high alumina bricks have good chemical stability in reducing atmosphere, kilns that use hydrogen, carbon monoxide, and other masonry as protective atmosphere generally use High Alumina Insulating Refractory Bricks as heat insulation linings. The maximum operating temperature is generally 1350~1500℃.
The lightweight corundum brick refers to a lightweight refractory product that contains more than 90% AL2O3 and is mainly composed of corundum. It uses industrial alumina as raw material and adds a small amount of binder and flux. It is made by gas generation method and foam method, formed, dried, and fired at 1350~1550℃. Therefore, it is often called foamed corundum bricks and foamed alumina bricks. The bulk density of commonly used products is 0.8–1.35g/cm3, and the compressive strength is correspondingly 4-25MPa. Low thermal conductivity, high refractoriness, and good thermal stability. It can be used for the thermal insulation layer of thermal equipment, or the lining of thermal equipment directly acting on the flame. But it is not suitable for the place directly corroded by slag. It also has higher stability when used in a reducing atmosphere. Mainly used for equipment lining that is not corroded and scoured by molten materials and corrosive gases. The maximum operating temperature can generally reach 1650°C, and the use temperature of high-purity products can reach 1800°C.
It can be seen from the above that using different main raw materials, the use temperature of High Alumina Insulating Refractory Brick is different. In the insulation layer materials of high-temperature industrial kilns, it is necessary to choose suitable insulation refractory brick lining products according to different operating temperatures and to reduce investment costs.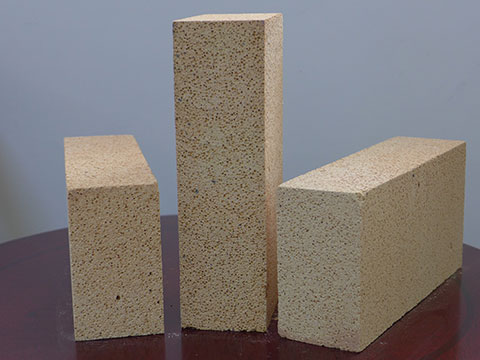 What are the Other Types of Lightweight Insulation Bricks?
The lightweight insulating refractory brick has a porous structure inside and a shaped block insulating refractory brick with heat insulation performance. Among them, the production and application of brick-shaped products are the most extensive, so they are also called lightweight heat-insulating refractory bricks. Lightweight insulation refractory bricks are usually classified and named according to their materials or raw materials used in manufacturing. For example, lightweight refractory bricks made with raw materials such as clay, siliceous, and high alumina are called lightweight clay bricks, lightweight silica bricks, and lightweight high alumina bricks(or called high alumina insulating refractory brick), respectively. For more information about the price of high-alumina lightweight insulation bricks and other lightweight insulation bricks, please promptly Rongsheng High Alumina Refractory Manufacturer. We will provide you with high-quality high alumina refractory, including high alumina refractory bricks and the high alumina castable, according to your specific needs to meet the production needs of your thermal equipment, and save your production costs to the greatest extent.