Alumina brick is a high-performance refractory material whose main component is alumina (Al2O3). Usually, high-purity alumina is used as raw material, which is sintered at high temperatures. It has a wide range of application scenarios and is mainly used in various refractory equipment in harsh environments such as high temperature, high pressure, and corrosion. During the construction process, attention should be paid to ensure safety and environmental protection during the construction process. RS high-alumina refractory brick manufacturer can provide various high-quality alumina fire brick, such as Wear-Resistant Alumina Lining Brick, α-β Alumina Brick, Alumina Bubble Brick, etc., which are suitable for various harsh environments.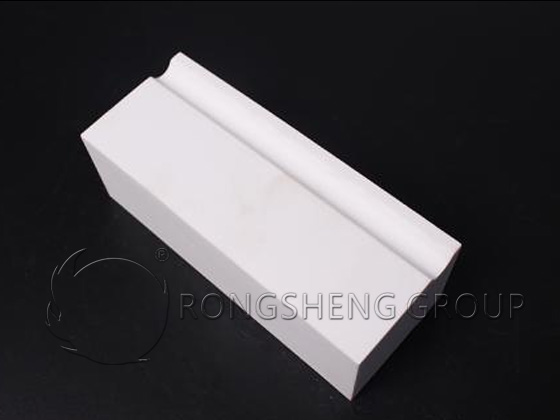 Wear-Resistant Alumina Lining Brick
Wear-resistant alumina lining bricks and high-alumina lining bricks are specially used for wear-resistant linings of ball mills. Wear-resistant alumina lining brick is also called alumina brick, wear-resistant lining brick, alumina grinding lining brick, ball mill lining brick, high alumina lining brick, etc. Its main component is alumina powder, after basic mixing, discharging, and trapping, it is sent to a press for molding. It is dried at 200±10°C and fired at 1580~1620°C.
Wear-resistant alumina lining bricks can be used for glaze and ceramic brick body grinding. It has the characteristics of high hardness, high density, low wear, good regularity, and corrosion resistance. Therefore, most of them are used as wear-resistant linings for ball mills. Used in ceramics, cement, paint, pigment, chemical industry, medicine, paint, inorganic mineral powder, and other industries. It can effectively improve the grinding efficiency, reduce the grinding cost and reduce product pollution.
In addition, the wear-resistant alumina lining brick is the grinding body of fine crushing equipment such as ball mills, vibrating mills, and pot mills. Its crushing efficiency and wear resistance are better than mullite and natural stone. Applied to architectural ceramics, industrial ceramics, electronic ceramics, daily-use ceramics, enamel enterprises, metallurgical enterprises, chemical enterprises, pharmaceutical enterprises, ink enterprises, and other production enterprises.
Wear-resistant alumina lining bricks are divided into rectangular bricks, trapezoidal bricks, and special-shaped bricks according to their shapes. According to the content, it can be divided into medium and high alumina lining bricks, high alumina lining bricks, etc.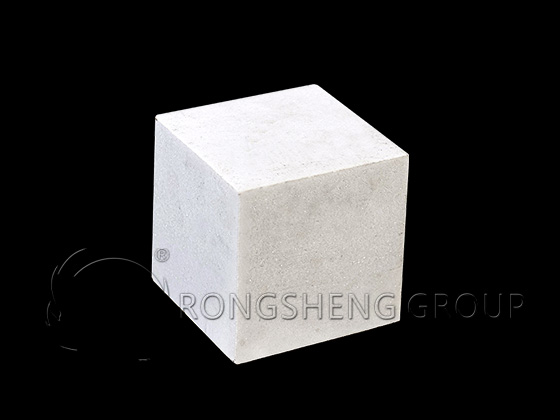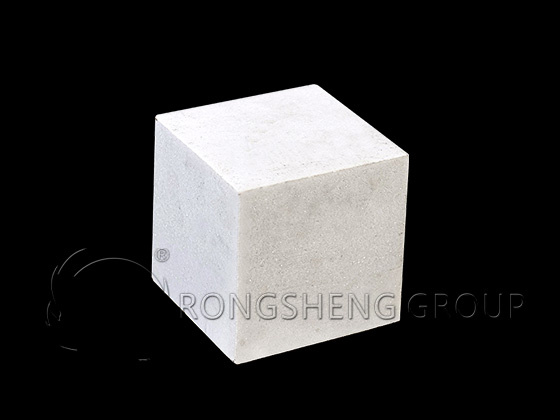 α-β Alumina Bricks Properties
α-β alumina bricks composition is Al2O3 (containing 94.5%~96.5%). The crystal phase structure is composed of 45%~55% α-Al2O3 phase and 45%~60% β-Al2O3 phase.
Due to the relatively large amount of β-Al2O3 intertwined between α-Al2O3 crystals, the tubular microstructure of the original α-Al2O3 becomes a scaly structure. The crystal is also much smaller than when it exists alone, so its corrosion resistance becomes only slightly inferior, while the heat deformation resistance of the brick body is greatly improved.
Melting and casting α-Al2O3 products have a bulk density of 3.15~3.30g/cm3, contain a small amount of glass phase (about 2%) to fill the pores between crystals, and have high purity. Because it does not pollute the glass liquid and has good resistance to glass erosion and excellent high-temperature wear resistance below 1350 °C. Therefore, it is an ideal refractory material used in the clarification part, cooling part, working pool, and other parts of the glass melting furnace.
β-Alumina Fire Brick
β-alumina bricks composition, β-Al2O3 is another metamorphosis of alumina, the molecular formula is Na2O·11Al2O3. The relative density is 3.30~3.40, the Mohs hardness is 6, and the content of Na2O dissolved in β-Al2O3 can reach 7%. Therefore, strictly speaking, β-Al2O3 cannot be regarded as the polycrystalline transformation of Al2O3, it should be an aluminate group.
A white product composed of coarse and bright crystals of β-Al2O3, containing Al2O3: 92%~95%. There is only less than 1% glass phase, and the structural strength of the product is low due to the loose crystal lattice. Its apparent porosity is less than 15%, and its bulk density is 2.80~3.0g/cm3. Since the density difference between β-Al2O3 and the solution is very small during casting, it actually has no shrinkage cavity. Because the density difference is proportional to the shrinkage volume.
Since Al2O3 itself is saturated with sodium above 2000°C, it is very stable against alkali vapor at high temperatures. In addition, its thermal stability is also the best among fused cast bricks. However, when in contact with SiO2, Na2O contained in β-SiO2 decomposes and reacts with SiO2, and β-Al2O3 easily becomes α-Al2O3. A large volume shrinkage will cause cracks in the bricks and cause damage. So it is only suitable for superstructures away from SiO2-containing flying dust. For example, the upper structure of the working pool, the breast wall near the combustion port, the small furnace nozzle, and the hanging wall, etc. Because the brick does not interact with volatile alkali metal oxides, there is no need to worry about contaminating the glass with melt dripping from the brick surface.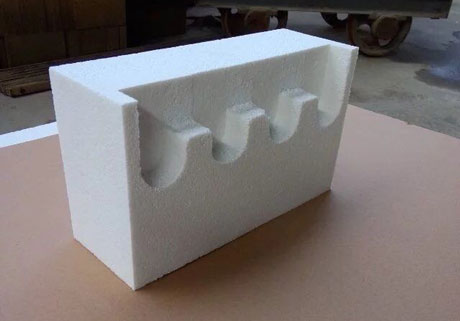 Alumina Bubble Brick
Alumina bubble brick uses alumina hollow spheres as the main raw material, high-performance micro-powder as additives, and organic materials as temporary binders, and is fired at high temperature in a shuttle kiln. The product contains a large number of closed pores, which has the characteristics of lightweight, high-temperature resistance, good thermal insulation performance, small reheating shrinkage, and excellent thermal shock resistance. It is also highly resistant to aggressive gases and slag. The product can greatly improve the thermal efficiency of the kiln, shorten the production cycle, reduce the weight of the kiln body, and achieve energy saving and consumption reduction. The product can directly contact the flame and is suitable for the inner lining of cracking furnaces, hot blast furnaces, heating furnaces, tunnel kilns, pusher kilns, crucible furnaces, and various electric furnaces and electric kilns. Widely used in metallurgy, refractories, light industry, the chemical industry, ceramics, glass, electronics, and other industries. The dimensions, physical and chemical indicators, and service life of the products have reached or exceeded the level of similar products at home and abroad.
Rongsheng High Alumina Brick Manufacturer
Rongsheng high alumina brick manufacturer is a manufacturer of refractory bricks with rich production and sales experience. Our years of experience not only enable us to break through multiple technical problems but also promote our development. Let us serve our customers more comprehensively. In terms of refractory lining materials, we can not only provide design (customization) and construction of refractory lining materials but also provide comprehensive customer service throughout the service cycle of our refractory lining materials. Contact us for free samples and quotations.