The heat storage alumina ceramic ball of the heat preservation furnace can be known directly from the name that it is a material used for heat storage and heat preservation in high-temperature furnaces. So specifically, what does the heat storage alumina ceramic ball look like? Which high-temperature kiln heat storage can ceramic balls be applied to? Rongsheng refractory manufacturers can provide Heat Storage Al2O3≥80% Alumina Balls with a Diameter of 18-20mm for 1000°C Furnaces.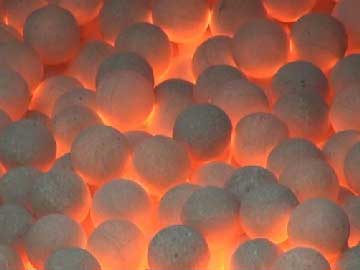 High Alumina Balls for Furnaces
The more common heat storage balls are high alumina balls. It is a ceramic product made of α-alumina as the basic raw material, rolled or pressed, and sintered at high temperatures. It is also called an alumina ceramic ball. A heat-storage high alumina refractory ball is also called a spherical heat-storage body. The spherical regenerator has the advantages of good thermal shock stability, large heat storage capacity, high strength, easy cleaning, and reusability.
Heat Storage High Alumina Ceramic Balls
Heat storage high alumina ceramic balls are widely used in industrial furnaces such as heating furnaces in steel and metallurgy industries, aluminum melting furnaces, and forging furnaces. It is especially suitable for regenerators of air separation equipment and blast furnace gas heating furnaces of iron and steel plants as heat storage fillers. Through double preheating of gas and air, the combustion temperature can quickly reach the requirement of steel rolling for billet heating.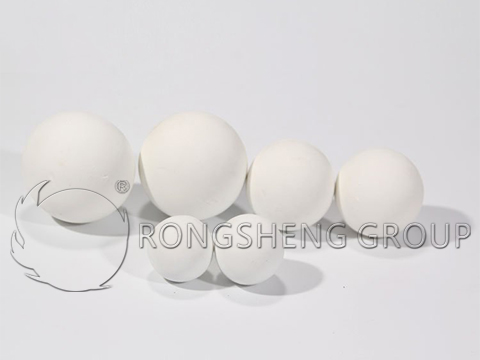 The working principle of heat storage high alumina ceramic ball
High-alumina ceramic balls are many small balls that divide the airflow into small streams. When the airflow flows through the heat conductor, a strong turbulent flow is formed, which effectively breaks through the boundary layer on the surface of the heat conductor. And because the alumina balls' diameter of the ball is small, the conduction radius is small, the thermal resistance is small, the density is high, and the thermal conductivity is good. Therefore, the requirement of frequent and rapid reversing of the heat conduction burner can be realized.
The heat conductor can be reversed 20~30 times/h, and the flue gas can be reduced to about 130°C and discharged after the high-temperature air flows through the heat conductor bed.
High-temperature natural gas and air can be preheated to a temperature only about 100°C lower than the flue gas temperature in the same path through the heat conductor, and the temperature efficiency is as high as 90%.
Due to the very small size of the heat conductor and the strong flow capacity of the high-alumina ball bed, even if the resistance increases after dust accumulation, the heat exchange index will not be affected.
High alumina refractory ball has the characteristics of strong oxidation resistance and slag resistance.
The replacement and cleaning of high-alumina ceramic balls are very convenient and can be used repeatedly.
The color of the high alumina balls 92 series, 95 series, and 99 series are all white. Al2O3≥80% alumina ceramic balls for sale for furnaces have the advantages of high strength, wear resistance, rapid cooling and heat resistance, long service life, and higher cost performance.
Characteristics of heat storage refractory ceramic balls
Refractory ceramic balls have low refiring line shrinkage, high softening temperature under high-temperature load, corrosion resistance, and high strength. It is an excellent refractory material due to its remarkable characteristics of large heat storage and discharge, good thermal shock stability, good thermal conductivity, and a small thermal expansion coefficient. Through double preheating of gas (blast furnace, converter) and air (for oil, high calorific value gas, etc., the combustion-supporting air single heat storage method is adopted). The regenerative heating furnace can reduce the exhaust gas volume by 20-50%, and the exhaust gas temperature can be reduced to less than 150 degrees. The output is increased by 15-20%, the billet heating time is shortened by 50%, and the oxidation burning loss is reduced by 30-50%, which is an environmental protection and energy-saving effect. The small heat storage alumina ball has a specific surface area of 240m2/m3.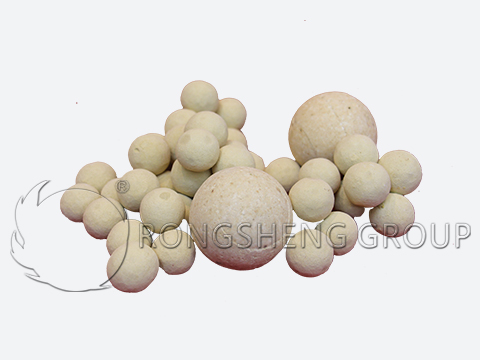 Application fields of heat storage alumina ceramic balls
Heat storage alumina ceramic ball is made of Al2O3, kaolin, synthetic aggregate, mullite crystal, and other materials. According to rolling and machine pressing two methods. The product has high-temperature resistance, corrosion resistance, high density, small thermal resistance, high strength, good thermal conductivity, oxidation resistance, strong slag resistance, large thermal conductivity and heat capacity, and high heat storage efficiency. It has the advantage of good thermal stability and is not easy to break when the temperature changes drastically. In addition to ceramic heat storage alumina balls for 1000°C holding furnaces, the application fields of heat storage alumina balls also have the following applications and specifications.
Regenerative ceramic balls are especially suitable for use as heat storage fillers in air separation equipment regenerators and blast furnace gas heating furnaces in iron and steel plants. Through double preheating of gas and air, the combustion temperature can quickly reach the requirements of steel billet heating for rolling.
The main specifications of heat storage ceramic balls: are Φ16mm, Φ18mm, Φ20mm, and Φ25mm. Classification of thermal storage ceramic balls: according to product materials: high alumina, corundum mullite. The heat storage alumina ceramic balls mainly have three shapes: small ceramic balls, porous cylindrical ceramic balls, and porous circular ceramic balls.
Rongsheng High Alumina Refractory Manufacturer
Rongsheng high-alumina refractory material manufacturer specializes in refractory lining materials for high-temperature kilns, the design of refractory insulation layers, and the supply of refractory insulation materials, as well as the sales and supply of heat storage high-alumina ceramic balls and aluminum silicate fiber insulation cotton products. Al2O3≥80% 18-20mm diameter 1000℃ furnace heat storage ceramic ball, as one of our products, has high-cost performance and good heat storage effect. To purchase high-quality high-alumina refractory products, high-alumina balls, and high-alumina ceramic balls, please contact us. We can provide free samples and prices.