Alumina grinding balls are non-metallic grinding media widely used in industrial grinding. It has many physical and chemical advantages over metal grinding balls. Application of alumina grinding balls. Rongsheng alumina grinding ball manufacturers provide high-quality alumina ball grinding balls. Contact us for free quotes and samples.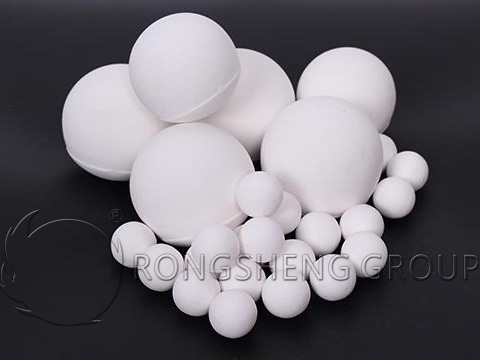 Properties of Alumina Grinding Balls
Alumina grinding balls can be divided into medium aluminum balls, medium-high aluminum balls, and high aluminum balls according to different alumina contents.
Generally, we classify 60%-65% alumina content as medium-aluminum balls, 75%-80% alumina content as medium-high alumina balls, and above 90% alumina content as high-aluminum balls. Among them, high alumina balls are subdivided into 90 porcelain, 92 porcelain, 95 porcelain, and 99 porcelain. Due to its extremely high production cost, 99 porcelain is rarely produced in large quantities by large manufacturers, mainly by hand in some special ceramic factories.
Medium aluminum balls and medium and high aluminum balls are accepted by most ceramic factories due to their lower prices and are mainly used for grinding ceramic blanks. Due to its high strength, high hardness, high wear resistance, large specific gravity, small volume, high-temperature resistance, corrosion resistance, and no pollution, a high aluminum ball has excellent characteristics. It is widely used in the finishing and deep processing of thick and hard materials in different types of ceramics, enamels, glass, chemicals, and other factories. Among them, the use of high-aluminum balls with a content of 92 is the most common.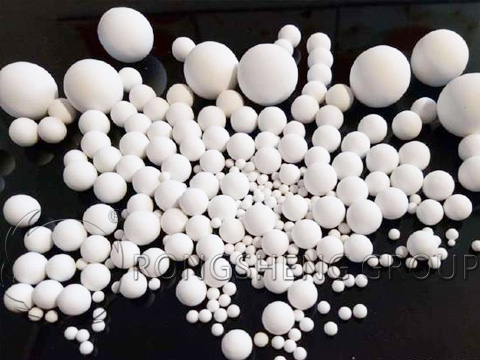 Application of Alumina Grinding Balls
Alumina grinding balls are made of high-purity alumina powder by isostatic pressing and high-temperature sintering. The density of 92 alumina ball is about 3.6, the Mohs hardness is 9, the water absorption rate is close to 0, and the self-wear is 0.01%. It is precisely because of the above characteristics that alumina grinding balls are widely used in fine grinding in various industries.
Firstly, is the application of alumina ceramic grinding balls in quartz grinding. The hardness of quartz is also very high, especially the high white quartz with high whiteness requirements, and the color of alumina is also very white. This solves the grinding problem of high white quartz from various aspects and can reduce the pollution of quartz during grinding.
Then, the grinding of alumina ceramic grinding balls in the glass. The hardness of glass is very high, and ordinary grinding media have limited ability to process it. Excessive impurities will greatly reduce the quality of the glass, resulting in poor quality of finished glass and inability to produce high-quality products. Alumina ceramic grinding balls can solve this problem very well.
Next, high alumina grinding balls can be used in lithium battery grinding. This is an emerging industry, and alumina ceramic grinding balls can show their charm through their own materials. We know that lithium battery materials are very sensitive to iron, so metal abrasive bonding is really not available. But in non-metallic grinding media, the efficiency of alumina grinding balls is very high. So it has become a very good alternative abrasive material.
Finally, grinding in cement grinding. Now the ceramic industry has developed into a more popular industry in recent years. Alumina grinding balls feature very low wear, thermal conductivity, and low density. So it has good performance in the two-stage grinding of cement mill. Especially in energy saving and consumption reduction, the effect of improving product quality is more obvious.
Alumina Grinding Ball Supplier
Rongsheng high alumina material manufacturers introduced the characteristics and applications of alumina grinding balls. For more information and prices about alumina grinding balls and alumina balls, please choose a powerful refractory ball manufacturer. Rongsheng high aluminum material manufacturer is a good choice.